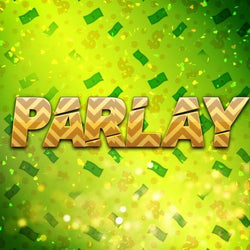 All Parlays for all sports! Parlays are for ENTERTAINMENT not profitability. This is a fun add on package for those who gamble everyday on straight bets. WE DO NOT RECOMMEND ONLY BETTING PARLAYS IT IS SIMPLY NOT A PROFITABLE WAY TO BET OVERTIME. 
We have 2-9 parlays per week.
These are low risk, high reward picks. We do not have a parlay everyday. 
***MAKE SURE THE EMAIL YOU SIGN UP WITH IS THE EMAIL YOU WANT THE PICKS SENT TO.
Picks are emailed each day at least 1 hour before our first pick. Sometimes there are multiple cards sent out through the day so please watch your email. We post on our Instagram and Facebook story each time picks are released. TURN NOTIFICATIONS on if you want to know when picks are released. If you see picks are out and you still have not received, please check your spam/junk mail. They will randomly go there sometimes even if they haven't been going there previously. If picks are out and they are not in spam/junk either, please text 702-943-0888 with your order #, name, and email address to get picks.